Integrated with
Active Subscriber 2017 mailing lists are native Exchange distribution groups. This means your mailing lists are always up to date and governed by your Exchange email policies.
Active Subscriber 2017 creates new external contacts for subscribers who aren't already present in Active Directory. These contacts can be hidden from the global address book and are deleted when they cancel their last subscription.
You can also maintain email contacts and subscriptions manually without getting in the way of Active Subscriber 2017 at all.
Active Subscriber 2017 is loosely coupled to Exchange. It runs as an independent service and communicates with Exchange through Exchange Web Services and PowerShell, just like a human user, so it doesn't make any changes to your Exchange installation. It can even be installed on a separate server.
Scalable
Active Subscriber 2017 scales up to the enterprise level.
In a multi-server environment, you can add reliability by having multiple installations of Active Subscriber 2017 working together.
Multiple installations of Active Subscriber 2017 will politely share the same mailbox and container. They will divide up the work between them, processing the command emails on a first-come, first-served basis.
Multilingual
Active Subscriber 2017 supports multiple languages out of the box, currently English, French, German, Italian, Dutch, Spanish, Portuguese, Japanese, Māori and Welsh. Subscribers simply send command messages in their own language and get replies in the same language.
Or you can implement your own language in an XML lexicon document.
One-click command emails
Active Subscriber 2017 emails contain clickable links that generate relevant new command emails ready for the user to send.
For example, if you send a lists command to the list server, it will reply with a list of all the mailing lists available on the server. Like this: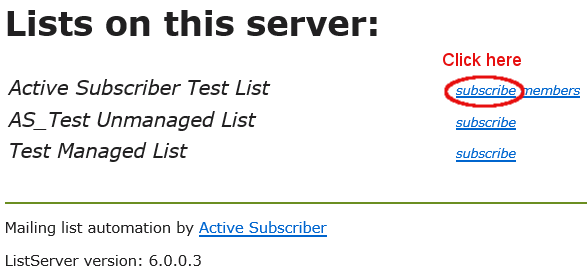 Clicking the subscribe link next to a mailing list generates a new email in your email client, pre-addressed to the list server, with a subject line containing a subscribe command for that list.
One click and the command email is ready to go. Joining the mailing list is as easy as clicking the send button!
One-click commands make it quick and easy for subscribers to manage their subscriptions without error or effort.
Advanced installation and diagnostics
Microsoft Exchange environments can be complicated, and Active Subscriber 2017 requires a range of technologies and permissions to do its job. So it comes with an intelligent configurator to help you get it going and to diagnose any issues that might arise later when your setup changes.
Active Subscriber 2017 reply emails are clean and professional XHTML documents. They are based on a template document you can modify to suit. You can add your own branding and styles, reorder the reply elements and drop optional items.
Enhanced list administration
Active Subscriber 2017 mailing lists are just ordinary Exchange distribution groups, managed using the standard Exchange toolset. But Active Subscriber 2017 also allows you to set a default language for each list and assign management roles for the list to particular security groups. Active Subscriber 2017 has some global settings of its own as well. A simple administration web page makes it easy to manage all these settings.
Try for one month before you buy
You can download Active Subscriber 2017 and evaluate it for a month without obligation. The evaluation version is fully functional and ready for production.